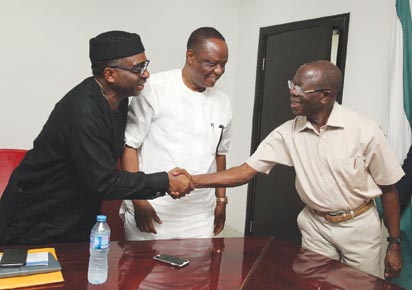 History was made in March 2016 when a $750million (about N150 billion) farm, designed to create 85,000 jobs in Edo State, was unveiled by business man, Captain Hosa Okunbo, at Government House, Benin City.
Okunbo, who arrived the Government House with his partners from Mexico and the Director General of the Nigeria Export Promotion Council, Dr Segun Awolowo, told Governor Adams Oshiomhole that the farm, to be sited in Odighi, in Ovia North East Local Government Area of Edo, has been his dream after conquering the air as a pilot, the sea, following hundreds of his vessels in the waters ways and now the land, with the farm project. He explained that the farm will create 25,000 direct jobs and 60,000 indirect jobs. Aside the farm, which will produce livestock, pineapple, banana and many other crops, an international airport will be built in the area for easy export of the farm produce.
"The 9,000 hectares of land was acquired in 2006, because it is my dream project. I am partnering with investors to realise this dream. It is something very special to me, I am doing this not because of money but because of what we can give back to the society, it is a legacy project" .

Okunbo said. "This will eventually outlive me when I do it the right way. This is what I call my vision, what I call my legacy, something that has been in my dreams for some time, I have been nurturing it, working on it for over five years now. We have just kick started. Mr Governor, why this is very important to me is that at my very young age, as a pilot, I conquered my profession at the age of 30 and I left. I went into business by the grace of God. I have done so well with over 60 vessels in the sea, I think I have conquered the sea. And coming to the land I said before the land takes me, I want to conquer the land. I have started already with a 20 hectares green house at the bypass. The green house, some of the facilities are arriving this week and, before the end of October, we will be producing about 600 tones from the green house of vegetable every month for both local or export market".
Speaking also during the presentation, the DG of the NEPC, Awolowo, explained: " We started as a facilitator. The idea is to bring investment into manufacturing and industry in Nigeria and this is a perfect example of that, partnering with Wells and Carlos Farms. Our soil is very fertile and very good. We can capture the European market. This is a wonderful investment that will be the envy of other states and countries in Africa".
An elated Oshiomhole, who said he was proud that Okunbo is an indigene of Edo, said the investment keyed into the effort by President Muhammadu Buhari to diversify the economy from oil by returning the nation to farming. He said: "Let me thank you for the confidence you have reposed in your own state. I am excited with what I have seen because one way we can help our communities is to create jobs, opportunities for other people to have three square meals and save for the future. And I believe that the objective of the Wells Farm Limited complements very well the Federal Government's commitment in the area of food security and of course with a potential for export. If any of us had thought that Nigeria can continue to live on oil revenue, recent events have shown clearly that this is not a sustainable position. I think you are on the right track and I am excited that you are from Edo."