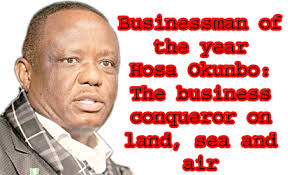 In 2016, Captain Idahosa Wells Okunbo received a feather in his cap with his nomination by the Vanguard Board of Editors – a nomination which was ratified by the management – as the newspaper Businessman of the Year 2016.
Captain 'Hosa, along with other notable recipients of awards in other categories, were recognised for contributing to the upliftment of humanity. His contributions, over the years, have been in diverse areas of human endeavours: business, community development, liberation struggle, academia, and local tradition.
His outstanding contribution to the promotion of peace and good governance as well as development of his community earned him the honour of the Justice of the Peace (JP) in 2007. He has continued to ensure that the vulnerable population in his community is taken care of and empowered to be self-reliant.
In 2012, the United States (US) Congress, honoured him with the "African Titan" Award for being a voice of the Niger Delta people through a movie, which he sponsored, titled, "Black November." The movie helped to promote the liberation struggle in the Niger Delta so that the region can enjoy better life after years of exploitation and despoliation due to oil prospecting activities.
The University of Benin also, in 2012, conferred on him a Doctorate Degree in Business Administration (Honoris Causa). The university authorities appropriately decided that it is the business arena where he has conquered the air, the sea and the land, that he would be recognised. As a distinguished son of Benin Kingdom, he has impacted the Kingdom very positively with a number of solid investments.
The immediate past Oba of Benin, on October 2, 2014, recognised and decorated him as a worthy ambassador of the ancient Benin Kingdom. He was, among other forms of support to the royalty, on hand to lead the then Crown Prince, who is now the Oba of Benin, Ewuare 11, to the Aso Rock Presidential Villa on April 25, 2014 to deliver a goodwill message from the then Oba of Benin to the then President, Dr Goodluck Ebele Jonathan.
Captain 'Hosa is a silent operator. A shrewd businessman with a touch of Midas, every business he touches turns golden. Apart from the savvy with which he has defined his sphere of investments, his persona and unpublicized philanthropy have confounded those who have benefitted from his kindness. He has continued to touch the lives of people who are lucky to cross his path.
He is purposeful. He does not play to the gallery. He does not crave for recognition, despite having the wherewithal to get it. He may have close to the wealth of Croesus, the last King of Lydia who was renowned for his great wealth, he certainly does not splash his wealth with the sybaritic indulgence of Adnan Khashoggi, Saudi Arabian businessman, who spent his wealth on lavish parties and was reported to have in his heyday spent $250,000 a day to maintain his expensive lifestyle.
The latest honour – Vanguard Businessman of the Year 2016 – is, thus, in recognition of his financial discipline, investment acumen and great accomplishment in business. It is in the business terrain that Captain 'Hosa has cut a niche for himself. Investment in big and, often, high risk businesses, is his forte. He has a lion's heart and treads wherein the lily-livered are afraid to venture.
He invested in the oil and gas sector, where he has since broken the glass ceiling with his many accomplishments in the area of marine security and marine logistics through his company, Ocean Marine Solution (OMS) Limited.
OMS has been involved in the recovery, remediation and maintenance as well as security surveillance of the Escravos-Warri and Bonny-Port Harcourt pipeline segments. This has resulted in the significant turnaround of the pipeline system from its once weak and old state in the past eight years to the current efficient and highly utilised level.
Restless, he has expanded his business frontiers into real estate, hospitality, entertainment, energy, power, telecoms, aviation and agriculture.
Indeed, Captain 'Hosa's life is a study in resilience. Add to it, multi-tasking. He has remained steadfast all through the years in the face of daunting challenges, occasioned by unpredictable business environments, and yet succeeding in the unstable conditions.
He actually set out with Hosyln Ventures Nigeria Limited, which was servicing the oil and gas sector with supplies of refinery catalysts used in major projects, including revamping and procurements. The company participated in the procurement of major engineering components for the Warri Refinery Turn-Around Maintenance in 1994.
His Hosyln Technologies Nigeria Limited, one of the first indigenous companies to execute engineering, procurement and construction (EPC) contract in Nigeria, completed and commissioned the early production facility for Nigerian Petroleum Development Company (NPDC) at Ajoki Oziengbe South Field in 2001.
Check out his leadership tasks: Captain 'Hosa is chairman of CMES OMS JV Limited, an integrated energy-related company with the capacity to provide financing and technical solutions to the upstream oil and gas sector, ranging from explorations to first oil for public and private indigenous oil companies.
He is also chairman of PPP Fluid Mechanics Limited, Secured Anchorage Area (SAA) Offshore Lagos, Gyro Air Limited, Ocean Marine Tankers Limited, Wells Farms Limited, Hoslyn Habitat Limited (a design, construction, and landscaping company), Wells Entertainments Limited, Wells Carlton Hotel and Luxury Apartments, and several other businesses.
Captain 'Hosa is a non-Executive Director of a number of companies, including: NATCOM NTEL (formerly NITEL), Funds Electronics Transfer Solutions (provider of electronic payment solutions), and Integrated Energy Distribution and Marketing Company Limited (core investor in Ibadan Electricity Distribution Company Limited).
Born on January 7, 1958, to the family of the late Reverend Robert Amos Okunbo, Captain 'Hosa, with a robust academic pedigree, is an accomplished businessman whose enterprise deserves recognition; and, he has been fittingly recognized.