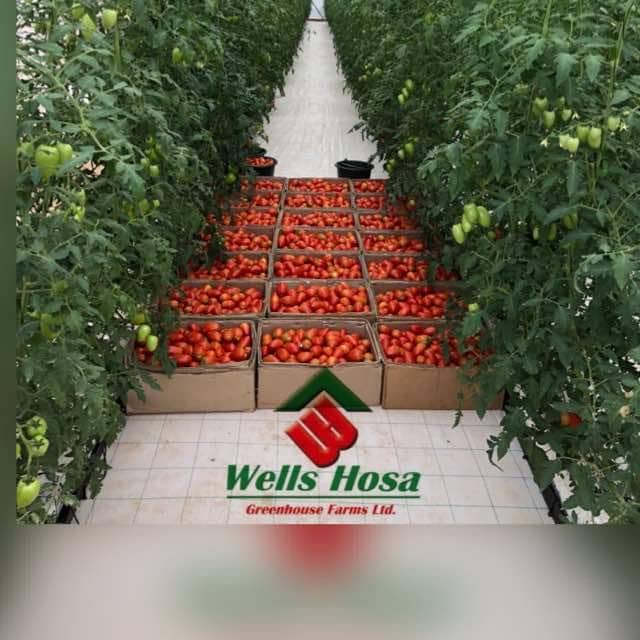 The management of Wells Hosa Greenhouse farms limited says its target to produce an estimated  4,200 tons of tomatoes annually.
Idahosa Wells Okunbo, chairman of the farm made the disclosure recently during the first harvest of tomatoes in the farm in Benin-City. It is estimated that $6million worth of revenue is expected annually from the produce.
"Presently, this project stands on 27 hectares of land and has the housing capacity for 28 Hydroponic Greenhouses, each of 5440 square metres. It also has an estimated production value of 4,200 tons per year as well as an estimated projected revenue of 6 million dollars per years," he said.
He added that, the farms at full capacity, it will directly employ 500 people while indirectly employing thousands of youths and women who will be engaged in the production of many types of vegetables for local consumption as well as export.
Idahosa Wells Okunbo posited that the greenhouse farm was positioned to help revolutionize the tomato industry in Nigeria and impact the entire- agricultural sector of the country.
While noting that, Nigeria imports an estimated $360 million of tomatoes annually, he added that the country has a lot of work to ensure self-sufficiency and import substitution whilst generating dollar inflows through exports.
"Nigeria is the 14th largest producer of tomatoes in the world. In Africa, we are ranked second after Egypt. Nigeria accounts for 65 percent of tomatoes produced in West Africa. Presently, the nation produces 1.8 million metric tons of tomatoes annually, but sadly, nearly 0.7 million metric tons of this quantity is lost after harvest," he added.
He said, Wells Hosa Greenhouse farms, is a pioneer project that is presently the largest of its kind in West Africa and its development is based on Hydroponic Technology, incorporates various system integrated by irrigation, fertilization and pest control, to obtain optimal plant growth and greater yield as compared with traditional open field methods.
He however, called for the adoption of new technologies that allows for increase in productivity, obtain better quality products, seek self-sufficiency and access international markets with better prices.
In his remark, the minister of state, agriculture; Heineken Lokpobiri,  said  the Federal Government has endorsed GreenHouse Farming in the country to boost food production.
Lokpobiri said before the administration of President Muhammadu Buhari, agriculture was seen as government programme, but that with  Wells Hosa GreenHouse Farms initiative, Nigerians are realising the importance of agricultural not only as an investment, but as a business.
On his party, Governor Godwin Obaseki of Edo State said Wells Hosa GreenHouse Farms project is in line with the state government mandate of creating job for the teaming youths.
Represented by his deputy, Philip Shaibu,said his administration is ready to partners with any private sector that is ready to  invest in the state as  accessibility to land will not be an issues because areas has been set aside for agriculture and other industrial businesses.
Executive Director/CEO, Nigerian Export Promotion Council, Olusegun Awolowo, said the establishment of Wells Hosa GreenHouse Farms is timely, especially as the body is doing a lot to promote export.
Culled from Business Day